Blessed By The Best is located at 1350 22nd St. S St. Petersburg.
BY MARLO SCOTT | Columnist
ST. PETERSBURG — When money gets tight, one of the first items people usually cut out of their budgets is that standing appointment at the salon. Instead of being pampered by the stylist, people typically attempt to do their own hair or reach for a wig.
Well, with Blessed By The Best in your vicinity, you won't have to make those hard decisions. Not only will you be blessed with affordability, but they also offer a wide selection of hairstyles from weaves, up-dos, braids, to locks and curls and everything in the middle. If you see it on television, they can do it.
Growing up in the business, owner Marion Davis' mother was a stylist. Her mother, Mary Wilcox, started showing her the ropes when she was knee-high to a styling chair. Now all grown up, she could give a course on how to run a successful salon.
With the sleek décor—all staged by Davis—and the anointed atmosphere that greets you when you walk through the door, you'll receive love, prayer and encouragement, causing you to feel blessed.
"I am blessed to be a blessing," said Davis. "It's all God."
While attending high school, Davis also attended Pinellas Technical Education Center, so when she graduated from Boca Ciega High School in 1994, she soon obtained her cosmetology license.
Once she was licensed, she became an unstoppable force. She has participated in hair shows and has even had a write-up in the St. Petersburg Times. Her large clientele is a testament to her skills, especially in hair weaving.
But, there are many sides to Davis. Her work in the community has proven to be very fulfilling. She feeds the homeless and provides hair care for them; she donates her time and talents to the local Job Corps and to young ladies at the state-approved girl's home.
She also has a non-profit organization called First Love Yourself. Through this organization, she hosts a bible study and mentors boys and girls within the community. From this entity, she has branched off into two smaller groups: Yo-Mama and Dream Girls. This, by far, is one of her true heart's desires.
Happily married for three years, she is the proud mother of five children ranging in age from 5-19. Being a career mom is challenging, but she finds time to attend Word of Life Fellowship Church, where Ellis Hodges presides.
In the future, Davis would like to open a boutique that will carry fabulous clothing at affordable prices. She already has a name for it—Pretty Purple Boutique. And once you step foot in Blessed By The Best, you'll understand why she wants purple in the title of her next venture.
Mary Wilcox
This seasoned hair stylist is the mother of Davis. She was born in Quincy, Fla., and relocated to Pinellas County in 1971.  Raising her four children as a single mother, Wilcox knew that she had to work to support her family, and not any old job would do.
At one point, she thought she might like to dress up and be someone's secretary but decided against it. So she asked the Lord to help her choose a career, and she heard Him say as plain as day: "You are to do hair."
She shared what God told her with a couple of people, and they seemed skeptical, which was a little discouraging, but she persevered. Wilcox decided to go to beauty school and open a salon in her home. Unfortunately, by the time she finished school, codes had changed, making it impossible to get a permit for the home.
By the time she finished school, she had built a small clientele, so her career was off to a healthy start. She worked under a hair stylist for about six months and then opened her own salon named The Lord and Me Salon. Her first salon was on 18th Avenue and 40th Street South, and then she moved to Central Avenue and 16th Street.
"I was going to church," said Wilcox, "but I wasn't too involved in more than that, so as time progressed, I started going to bible study and grew my strength in the Lord. He provided it all."
As her daughters got older, she changed the name of the shop to The Lord and Ours. When she opened her doors to service the people of Pinellas County, people came to the salon just because the name intrigued their spirit.
Once they came, they stayed for the Christian atmosphere. Her salon remained so busy that when a person canceled an appointment, she wouldn't complain. A cancellation meant she could sit down for a minute.
However, once her daughter Marion started doing hair, there wasn't a minute to sit, even with a cancellation. The salon would be so packed it was standing room only. The mother-and-daughter team flourished.
For over 27 years, Wilcox has been providing quality hair care at her salon or at her daughter's. She still does old-school press and curls, and yes even Jeri Curls. Semi-retired, she works at the salon twice a week, giving her more time to spend doing the Lord's work.
Shantae "Shani" Walton
Fairly new to the salon, Shantae Walton started braiding her friend's hair while she was in high school. She then began watching her stylist do her hair and others in the salon. She observed her techniques and asked questions. One evening, her sister needed her hair styled for an event, and she jumped on it.
"This was my chance to apply what I'd learned," said Walton. "I did ocean waves on her and they came out perfect."
Those waves emboldened her, and the experimentation started. Her mother, Arlean Ayers, wasn't even safe. She decided to stop experimenting and go to Loraine's Academy for cosmetology.
Loraine's allowed her to compete in competitions in local hair shows. It was a way to display her skills on a technical level and stay on the cutting edge of hairstyling. A fierce competitor, she won a bronze medal at the world-famous Bronner Bros. Hair Show.
Her first job was at Raging Hair Studio in 2001. She feels that it was the best experience she could have gotten because it was a multi-cultural full-service salon. She had the opportunity to work on all different types of hair.
It didn't take long for Walton to open up her own salon. In 2004, Creation by Shantae was the newest salon on the block. The next year, she also became an instructor at Manhattan Hair Academy. Her commitment to education has taught her that there is more to the business than behind the chair.
This motivated mother of two boys spends her spare time with her children. She feels family time is vital and said she's married to parenthood. Everything she does is centered on her boys.
Walton is a member of Faith Memorial Missionary Baptist Church, and on Sundays, when she's not at work, you'll see her little family there.
"I want to encourage the client not to be afraid of seeking a professional hair styling service; it instills great character in your children because if you look good, you feel great," Walton finished.
Joi Lane
Doing hair since the age of 14 with her Barbie dolls as clients, Joi Lane knew from the beginning that being a hairstylist was her calling. After graduating from Osceola High School, this naturally talented hairstylist gained her cosmetology license from Loraine's Beauty Academy in 1996.
After working under the direction of a seasoned hairstylist, she decided to launch her own salon named Essence of Beauty, which existed for seven years.
Lane enjoys precision cuts, hot curls, and creative styling (up-dos, buns, and French rolls) with woven or natural hair.
Raised by her grandparents, this virtuous woman followed her dream to become a hairstylist even though her grandfather was completely against it. So, she obtained a two-year degree from a community college to keep the peace.
Lane is happily married and enjoys spending time with her family. She loves to serve God, and on Tuesday nights and Sunday mornings, you can find her at New Beginnings Ministries, where Elizabeth Carswell is pastor.
She loves being a stylist but encourages youngsters in the beauty industry to spend as much time with family and to teach their children about God; not spending the majority of their time at the salon.
"Stay true to who you really are, and don't get caught up in the drama. Remember that God is the one who we serve, not man," stated Lane.
Kiana Jordan
Once Kiana Jordan graduated from Gibbs High School, she found herself searching for employment. After making several attempts, she decided to follow her dreams and become a nail technician. She bought a nail kit from a local drugstore, and she was well on her way to realizing her dreams.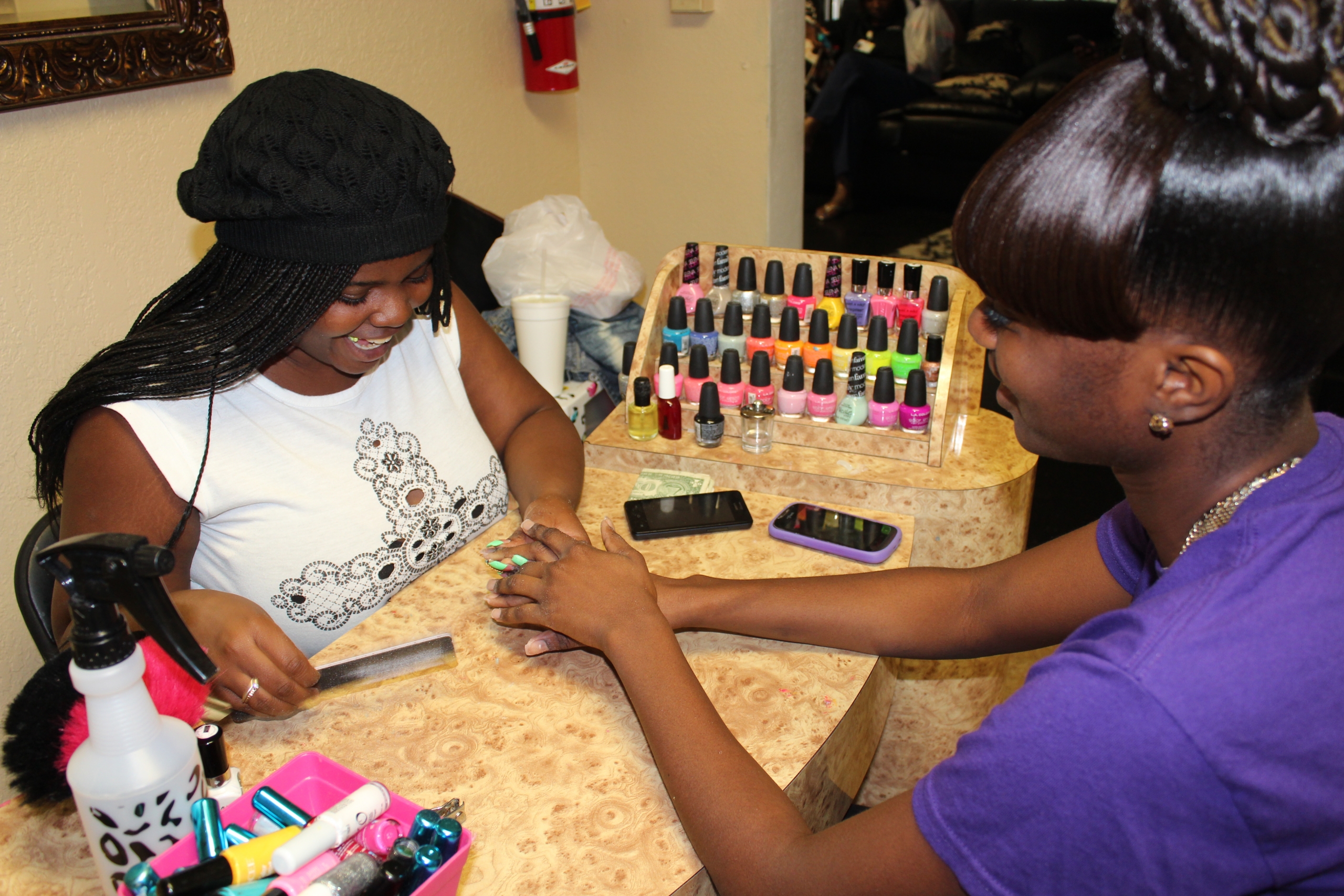 Practicing mostly on herself, it took Jordan about a month to get the techniques down. "I was a natural," Jordan said proudly.
Jordan graduated from The Academy of Beauty and Business in August of this year and quickly began work at Joyful Nails located on 34th Street North.
The daughter of Homer and Alice Jordan, this talented nail tech is making waves at Blessed By The Best. Her nail art is cutting-edge, and even though she's young and new in the business, she can truly satisfy your nail care needs. And to top it all, her prices are reasonable, too, with fill-ins starting at $10 and $20 with designs.
In the future, Jordan hopes to get a degree in business and own her very own day spa. "Follow your dreams and be as creative as possible and the rest will come. It happened for me," she said with youthful enthusiasm.
Said to be born with the "gift of hair braiding," Daniella Philip began honing her skills on her baby dolls. Born in Trinidad, this Boca Ciega High School graduate obtained her hair braiding certification online in 2009, and the rest was history.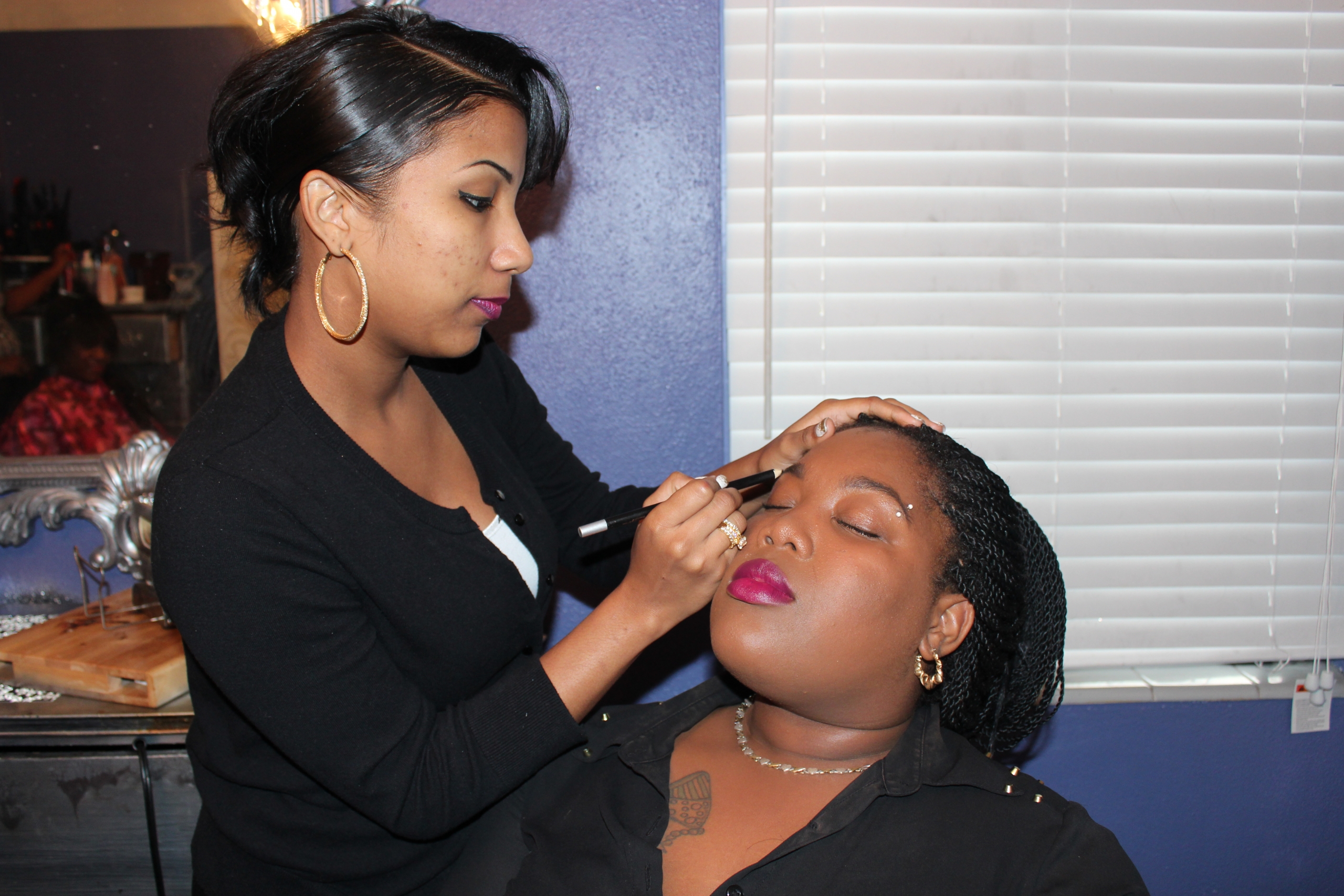 "I was braiding my friend's hair at school and was always complimented on how neat and pretty my extension braids were," said Philie.
Taking pride in her client's healthy hair, Philip said that "healthy hair is her business" and encourages her clients to think the same. She considers herself a pretty artistic person and brings this into her hair braiding.
Once working for Heidi's African Hair Braiding Salon, Philip decided to change careers and began working at a bank — a decision that did not allow her talents to shine through.
"There wasn't enough versatility or money for a single mother of two. I enjoy doing hair and the personal satisfaction it gives."
In the future, Philip would like to get into clothes design while still styling hair.
Tymecia McAffee
At 13 years old, Tymecia McAffee started braiding family member's hair. Where did she learn her techniques from? Why, YouTube of course. This self-taught stylist graduated from Lakewood High School in 2011 and graduated from Aveda Institute earlier this year.
She loves doing sew-in braids and up-dos. Still just a baby, McAffee plans to become a force to be reckoned with in the beauty industry. Not only is she a hairstylist, she does makeup and designs clothes. In the future, she would like to become a traveling hairstylist doing fashion shows and magazine shoots.
The daughter of Kimberly Green and Tyrone McAffee, she's a member of Christ Gospel Church, where Bishop Preston D.H. Leonard presides.
So if you're in the market for affordability, an anointed atmosphere, and seven divas that can give you any style you're looking for, head down to Blessed By The Best at 1350 22nd St. S., St. Petersburg or give them a call at (727) 320-5021.  Walk-ins are welcomed.