Sunday, April 28, the Carter G. Woodson African American History Museum celebrated trailblazing black women in Pinellas County at the St. Petersburg Marriott Clearwater.
BY RAVENJOY SHONEL, Staff Writer
ST. PETERSBURG – Since April is recognized as Black Women's History Month, the Dr. Carter G. Woodson African American History Museum celebrates trailblazing black women to coincide with the international movement. Last Sunday was the fifth anniversary of their First Ladies of African American History event.
The celebration is designed to highlight the exceptional accomplishments of local black women who have attained the status of becoming the first in a specialized field or endeavor.  Since 2014, the Woodson's list of honorees have become quite extensive to include the current United States ambassador to the Gambia (C. Patricia Alsup), the first African American and female president of St. Petersburg College (Dr. Tonjua Williams), the first black female deputy mayor of St. Petersburg (Dr. Kanika Tomalin) just to name a few.
"The Woodson takes pride in paying homage to outstanding women and African-American woman who have blazed the way along a path least traveled," said Woodson board chair Dana Battle. "Today we celebrate the first ladies in African American history and the relationships we have fostered with our sister of other races."
For the first time in the museum's history, they are able to offer academic scholarships thanks to an "extraordinary angel" in the community. Artist Jane Bunker painted and auctioned off her works of art, and the proceeds were used to create the Woodson Warrior Scholarship initiative.
"She created more than 20 pieces of art that she auctioned off and we raised more than $40,000," explained Woodson's Executive Director Terri Lipsey Scott.  "I am grateful. I'm grateful for the love, care, commitment and passion of someone who is new to this community but is not new to generosity, kindness and making a difference in the lives of others."
Students were required to write a 500-word essay on selected topics and have a letter of recommendation from a teacher or administrator.  Scads of young applicants applied and Bunker read each and every essay.
"Reading your essays left me feeling hopeful about our future," said Bunker, who was surprised later on in the afternoon with the Winnie Foster Lifetime Achievement Award. "Each of you has inspired me to paint more paintings, raise more money and grow the Woodson Warriors Scholarship fund so that no deserving local college-bound student will ever be left behind."
Charnecia Cummings, 18, was one of the recipients. She is a senior at St. Petersburg High School and is enrolled in the Construction and Technology Program.  She is currently OSHA certified and have just three more modules before becoming NCCER certified, which means she will be a licensed construction worker.
Amya Ellison,17, attends Pinellas Park High School and holds a 4.4 weighted grade point average. She is ranked eighth in her class of 366 students. Not only has she been employed at Marshalls for the last two years, but she also volunteers and is involved in many extracurricular activities.  As a first-generation college student, Amya will be attending the University of Florida in July and majoring in environmental sciences.
Scholarship recipient Diamond Scrivens was also on hand to show the audience that the Woodson Warriors funds are going to a good cause. She's a senior at Gibbs High School's Business Economics Technology Academy. She's already certified in Microsoft Word, Excel, PowerPoint and Adobe Photoshop. This fall, she will also attend Florida State University as a first-generation college student to study information technology.
These young ladies were just three out of 17 recipients of the inaugural Woodson Warrior Scholarship Initiative.
This year, Thelma McCloud was a special honoree for being the "heartbeat" of the Woodson.  Scott said when the museum first opened, she and McCloud use their personal credit cards to ensure the doors stayed open because it was extremely critical to them that the city had an African-American museum.
"I stand here today to acknowledge the commitment, dedication, love and support of an extraordinary Woodson Warrior, Thelma McCloud."
Before Deputy Mayor and City Administrator Dr. Kanika Tomalin read a proclamation from Mayor Rick Kriseman decreeing April 28 the First Ladies in African American History Day in St. Petersburg, she thanked the museum for honoring local female pioneers.
"We are so grateful as a city for this vision from a true visionary, Terri Lipsey Scott, and the entire board of the Carter G. Woodson Museum," she averred. "Thank you for this important task of putting the accomplishments and achievements of African-American women who are blazing trails at the forefront of our attention."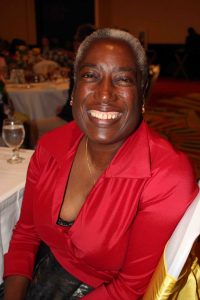 Bridgette Heller
A native of St. Petersburg, Bridgette Heller has spent more than 35 years developing and leading Fortune 100 companies. Most recently, she served as the executive vice president and president of Nutricia, the specialized Nutrition Division of Danone, which is an organization of 20,000 plus employees, representing 25 percent of the company's net sales and 50 percent of its profits.
Previously, she served as executive vice president and president of Merck Consumer Care. Before joining Merck, she was the first African American to serve as president of Johnson and Johnson's Global Baby Business Unit. Heller also served as CEO for Chung's Gourmet Foods and at Kraft Foods where she held various positions, including executive vice president of the coffee division.
In 2014, Heller co-founded a not-for-profit organization, the Shirley Proctor Puller Foundation, intending to improve literacy rates and close the achievement gap for children in the at-risk zones of south St. Petersburg.  She serves on the board of directors for Tech Data Corporation and is a member of the advisory board for the Kellogg School of Management.
Heller served on the national board of director's for Girls Incorporated for 12 years, four as board chair. She has been recognized by several organizations for her achievements, including "Black Enterprise's" Women of Power List.
She received an MBA from the Kellogg Graduate School of Management and her bachelor's degree from Northwestern University. She currently resides in St. Petersburg with her husband Eliot and her younger daughter Sara. Her older daughter Mariah lives in Colorado.
Bridgette Heller was honored for being the first African American to serve as president of Johnson and Johnson's Global Baby Business Unit.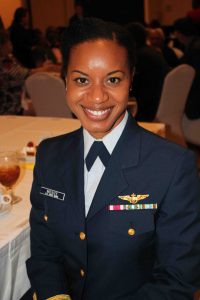 Jeanine McIntosh Menze
Born in Jamaica and raised in Ontario, Canada, and Miami, Jeanine McIntosh Menze developed a love of flying at an early age, and during college began pursuing pilot certifications. After college, she started work at the local Miami airport, Opa-locka, where she divided her time between the accounting department and instructing flight students.
While there, she observed Coast Guard operations at the USCG Air Station Miami, which compelled her to apply for officer candidate school and flight school. After completing the rigorous program, Menze was awarded her Wings of Gold in June 2005, becoming the first black female aviator in the 215-year history of the U.S. Coast Guard.
In 2007, Lieutenant Commander Menze was assigned to Air Station Clearwater. She has become a highly decorated and commended veteran of the U.S. Coast Guard where she's received many coveted awards such as Officer of the Year Award in 2009 from the Navy League for spearheading a community outreach program with a local First Responders Academy.
Her duty stations include Barber's Point Hawaii, Kodiak Alaska and Office of Personnel Management in Washington, D.C.  She has a bachelor's degree in international business from Florida International University and a graduate degree in quality systems management from the National Graduate School.
Currently, as a flight examiner, she is chief of all HC-130H training at the Aviation Training Center (Mobile, Ala.) detached duty Clearwater. She is married to Lieutenant Commander George Menze who is also a Coast Guard pilot, flying the MH-60.  They are the proud parents of a bright eight-year-old daughter named Alissa.
Lieutenant Commander Jeanine McIntosh Menze was honored for being the first black female aviator in the 215-year history of the U.S. Coast Guard.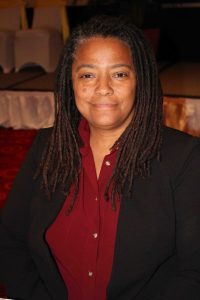 Nadine Smith
The executive director of Equality Florida, the state's largest organization dedicated to ending discrimination based on sexual orientation and gender identity, Nadine Smith is the first African-American lesbian invited to discuss LGBT issues in the Oval Office with a U.S. President.
Smith is the first and only executive director of Equality Florida, an organization she co-founded in 1997. An award-winning journalist turned organizer, she was one of four national co-chairs of the 1993 march on Washington. She was part of the historic meeting between then-President Clinton, the first Oval Office meeting between a sitting president and gay community leaders.
She served on the founding board of the International Gay and Lesbian Youth Organization, is a Florida Chamber Foundation Trustee and served on President Obama's National Finance Committee. Smith has been named one of the state's "most powerful and influential women" by the Florida Diversity Council, received the League of Women Voter's Woman of Distinction Award and in 2018 was named one of the 100 Most Influential Floridians by "Influence" magazine.
She currently serves as chair of the U.S. Commission on Civil Rights Florida Advisory Committee, and she and her wife, Andrea, live in St. Pete with their son Logan.
Nadine Smith was honored for being the first African-American lesbian invited to discuss LGBT issues in the Oval Office with a U.S. President.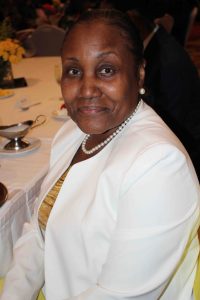 Sharon Welch
A native of the Tampa area, Sharon Welch is a graduate of Florida State University with a bachelor's degree, from the University of South Florida with a master's degree and a doctoral program at Capella University. She has taught in Pinellas County Schools as a chemistry, math and Earth science teacher.
Early in her career, she realized there was more in store for her, so she returned to college to pursue a career in business administration.  After teaching, Welch began her IT career with the Eckerd Foundation as an instructional technologist. A few years later, she accepted a position with the City of St. Petersburg and is now a 32-year veteran of municipal government.
For 26 of those 32 years, she has led the computer systems development staff for the city. She was also the coordinator of the city's highly acclaimed IT Internship program and has served as technical lead on the majority of the enterprise-wide business solutions implementation since 1990.
During her tenure with the City of St. Pete, Welch was one of the first minority female managers in the city, and the first African American and female IT systems development manager.
Welch is also an adjunct professor at St. Petersburg College where she has instructed technology courses since 1987. Currently, she serves on the faculty of the School of Policy, Ethics and Legal Studies where she teaches applied ethics, business and professional ethics and non-profit startup.
She is very involved in her community and her church. Welch is an advocate of giving back whenever possible. She has served as a Mayor's Mentor at local high schools and conducts career planning seminars in local churches. She is the proud mother of her adult daughter Rosharra, who is an accomplished performance artist.
Sharron Welch was honored for being the first African American and female IT systems development manager.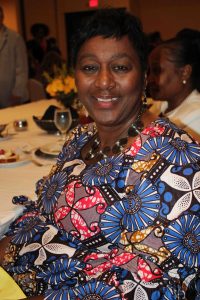 Patricia Wright
A native of North Carolina, Patricia Wright has spent more than 30 years working in the Pinellas County School District. She began working as a sixth-grade reading teacher at Pinellas Park Middle School in 1987. During her tenure, she was also one of Pinellas County's top 10 finalists for teacher of the year.
In 1994, Wright transferred to Sixteenth Street Middle School (now John Hopkins) as a teacher on special assignment. In this role, she worked as a dean or acting assistant principal for the performing arts magnet. After two and a half years, in 1997, Wright became the sixth-grade assistant principal at Largo Middle School.
In 2001, she was transferred to Southside Fundamental Middle. After being there two years, she was appointed as the first African-American principal of the school.
In 2005, the superintendent made sweeping changes in the district, and several principals were transferred to different schools. Wright was transferred from Southside Fundamental to Northeast High School where she became the first female principal of the high school.
In 2008, Wright was appointed as a director of school operations and became the first African- American female in this position. During the 2010-11 school year, she was appointed to the position of region superintendent. In 2012, the position was revised to area superintendent where she is currently over Area 4 and works with 30 schools. She serves as a liaison between the schools, community and superintendent's office.
Wright is active in the African Methodist Episcopal Church where she serves as the second female elected as president of the Eleventh Episcopal District Lay Organization, which spans the state of Florida and the Commonwealth of the Bahamas.
Patricia Wright was honored for being the first African-American principal of Southside Fundamental Middle School, the first female principal of Northeast High School and the first black female appointed as a director of school operations.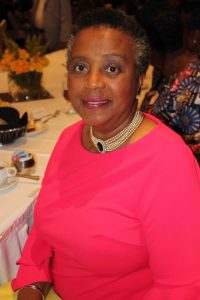 Thelma Montgomery McCloud
A native of Bradenton, Thelma Montgomery McCloud has spent most of her adult life living and working in St. Pete. Nearly all of her professional career has been in the related fields of banking, insurance and finance. In addition to her extensive career, McCloud has always been a servant leader in the community. She has generously provided countless hours mentoring students in the Pinellas County School system.
Also, she has tirelessly committed herself to several community-based organizations that uplift women and families, such as Women of the Word, Colors of Culture and her beloved place of worship, Mt. Zion Progressive Missionary Baptist Church where she has been a member for 42 years and has served the finance department for 25 years.
McCloud's most challenging and influential volunteer leadership position has been as a board member and treasurer for the Dr. Carter G. Woodson African American History Museum. She is the longest serving member of the board and has served as treasurer for many years.  Her role extends well beyond her regular board duties.
In McCloud's spare time, she loves to travel, cook and spend time with family and friends. She is the proud grandmother of Mya, James Nolan and Aiden Wesley.
Jane Bunker
Jane Bunker began studying art seriously at age 10 at the Farnsworth School of Art in North Truro, Mass., with Helen Sawyer and Jerry Farnsworth. After majoring in art at Stanford University, she took a detour into a career as a psychologist and only began painting again after she retired 20 years ago.  Since then, she has been fortunate to be represented by galleries in New York, Santa Fe, N.M., Aspen, Colo., Boise, Idaho and Cape Cod, Mass.
In 2013, Bunker was given a one-woman show at the New Britain Museum of American Art.  Over the years, she has been influenced by photography and particularly the atmospheric Steichen imagery. She also has an affinity for charcoal Seurat drawings, pastel Degas landscapes, representational Richters, Mondrian's early trees, Redon's flowers and some of the more abstract Turners.
Bunker cares deeply about her community and is greatly moved by the needs of the underserved. As a result, she gives generously of her time and talents to empower others. Determined to impact the lives of area youth, she had the idea to create and sell paintings to raise funds and provide scholarships for deserving African-American high school seniors aspiring to attend college.
Bunker and her husband of more than 50 years, photographer Mason Morfit, split their time between Gulfport and Cape Cod, Mass.
Jane Bunker received the Winnie Foster Lifetime Achievement Award.