BY KARIN DAVIS-THOMPSON, Staff Writer
ST. PETERSBURG – Preston Timmons recently received fantastic news that could save his life, but there is something important he must do first.
Timmons, a member of the Gibbs High School Athletic Hall of Fame, requires an organ transplant and was recently approved as a kidney recipient with Tampa General Hospital. In order to remain on the transplant list, however, he must show he has half of the funds needed for the medication to maintain a healthy kidney, about $4,000 and he doesn't have it.
His dire situation caught the attention of a local non-profit, the Naomi and Titus 2 Covenant Alliance (NT2CA). The organization held a fashion show fundraiser last Saturday, with a portion of the proceeds going to Timmons.
Founded by Teralyn Hodge, the organization was established in 2009 with the mission of helping to restore the role of Godly women as role models and teachers to the youth. The program provides services to assist women, youth and families.
The fashion show, held in Lakewood High School's auditorium, featured Silk n Jeans Modeling Group, a fashion troupe out of Clearwater. The fashions featured a mix of casual wear, church attire and appropriate school outfits.
Teralyn Hodge and her husband, Ellis R. Hodge, pastor of the Word of Life Fellowship Church, said using part of the proceeds from the fashion show to help Timmons was an easy decision. Although Timmons' wife is a volunteer with the nonprofit, no one was aware of the need until she decided he had to ask for help.
"We didn't know his situation until he started to tell us about it," Teralyn Hodge said.
Pastor Hodge said just listening to what Timmons has been going through was enough to compel he and his wife to find a way to help.
"Once we heard his story, we just had an overwhelming desire to help," said Pastor Hodge, who took to the stage and dusted off some moves he used back his in modeling days.
Timmons, 65, has undergone dialysis treatment for three years. He's suffered with high blood pressure most of his adult life, which eventually led to kidney failure.
"We are so grateful. We just followed scripture and scripture said 'if you ask not you have not,' and we asked and received," said Timmons.
"Standing with my husband, I want to really express to you our heartfelt thanks for the way that you rally around," said Ada Timmons, Preston's wife of 31 years.
The couple attends Mt. Moriah Missionary Baptist Church but considers Word of Life Fellowship Church as their home away from home.
Pastor Hodge praised his wife for creating NT2CA as a vehicle to help others.
"She's a big fan of blessing people while they are alive. She's a big fan of when there's a need that God presents to you, you're not supposed to walk away from it or hand it off to someone else," he said, noting that his wife was feeling under the weather and opted not to go on stage.
The afternoon was filled with fun, fashion and fellowship. The crowds went wild over the fashions and the beautiful women and handsome gentlemen donning them.
Silk n Jeans Modeling Group has been dazzling Tampa Bay audiences since its inception in 1968. Founded by the late Dr. Fredrick Walls and Gloria Bailey, their objective was to develop confident individuals, empowering them to discover their full potential while leaving them with a lasting source of pride.
Marilyn Turman has modeled with the group since the early 1980s, but at the April 6 show, she served as the fashion commentator.
"Our society does not always acknowledge our value and our beauty and who we are. And so it's important, especially with our young people that we show them an image of themselves and beauty and class and confidence," she said.
The numbers vary from year to year, but there are currently about 30 adult models and 15 youngsters, who are a part of their Klassy Kids Modeling Group. Young boys and girls from age 7-17 are under the tutelage of Fred Dixon, Jr.
"It's not just about the modeling, it's tied to their grades or academics and making sure that they're on point with that," Turman asserted. "They don't get to go on stage if they're not doing well in school and being disciplined."
She said the modeling group allows the youth to participate in something that instills confidence and value in them.
Silk n Jeans celebrated their 50th anniversary last December with a sold-out fashion show to end all fashion shows. That was Franchesca Dixon's first time on stage.
Her mother, Vera Clemons, started modeling with the troupe under Dr. Walls. Clemons and taught many of the models at Saturday's event. It took Franchesca Dixon 15 years after the death of her mother in 2003 to model, and only being her second time on stage, she strutted her stuff like a pro.
"I really like modeling," she said.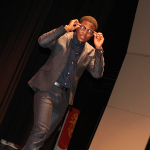 If you'd like to join Silk n Jeans, call 727-443-1626.
Along with helping Timmons raise money for a kidney transplant, the fashion show proceeds will also benefit other NT2CA initiatives, which include their support for girls in college and their mentoring program with Pinellas County Schools.