Cranstan Cumberbatch on location for the filming of 'AX2 – Quarantine.'
BY MARK PARKER, Staff Writer
ST. PETERSBURG — Local filmmaking duo Jabaar Edmond and Cranstan Cumberbatch are at it again, putting the finishing touches on their latest full-length feature, Agent X 2 – Quarantine.
AX2 is the sequel to 2019's Agent X, also written and directed by Edmond and Cumberbatch, with Cumberbatch reprising his role as the title character. The original movie was featured prominently on the local film festival circuit and screened at the AMC theater at Sundial and theaters in select cities around the country.
The homegrown, independent filmmakers and their DreamMakerz Productions are hoping to build off of that success.
While the pandemic shut down most Hollywood films, Edmond and Cumberbatch were determined to use it to their advantage. As the title would imply, AX2 – Quarantine was filmed from June 2020 through this April, when it would have been easy for the duo to shut their production and creativity down. But, instead, they did the opposite.
"We used the pandemic like a set," said Edmond. "Instead of trying to write around it, we incorporated it. It adds that element of reality and truth, and as we proceeded, I thought it could be a benefit. Because this quarantine is going to go down in history."
St. Petersburg is once again a focal point in the movie, with many scenes filmed downtown, on the beaches, and at the new Urban Stillhouse Distillery. They also shot in Arizona and Las Vegas, with empty hotels and casinos making the perfect backdrop for the plot.
Being born and raised in south St. Pete, filming a movie in their hometown holds extra meaning for Edmond and Cumberbatch.
"Oh man, it's a blessing," said Cumberbatch. "We have a beautiful city that is cinematic, that is ready to be captured on film. I mean, at the end of the day, there's no place like home."
Cumberbatch said that it is bigger than the "home" aspect; however, it does gives people from the area a chance to see actors and producers they can relate to achieving their dreams.
"For us, we grew up in a community where this didn't exist," he said. "We didn't have all of the performing arts programs and things of that nature to really teach us. So, for us to have learned the craft and be able to practice and enhance our skill in the craft in our home city and help develop and create something that hasn't existed in our neighborhood – or really the city – is a true reward. It's a blessing to be able to bring some level of Hollywood here."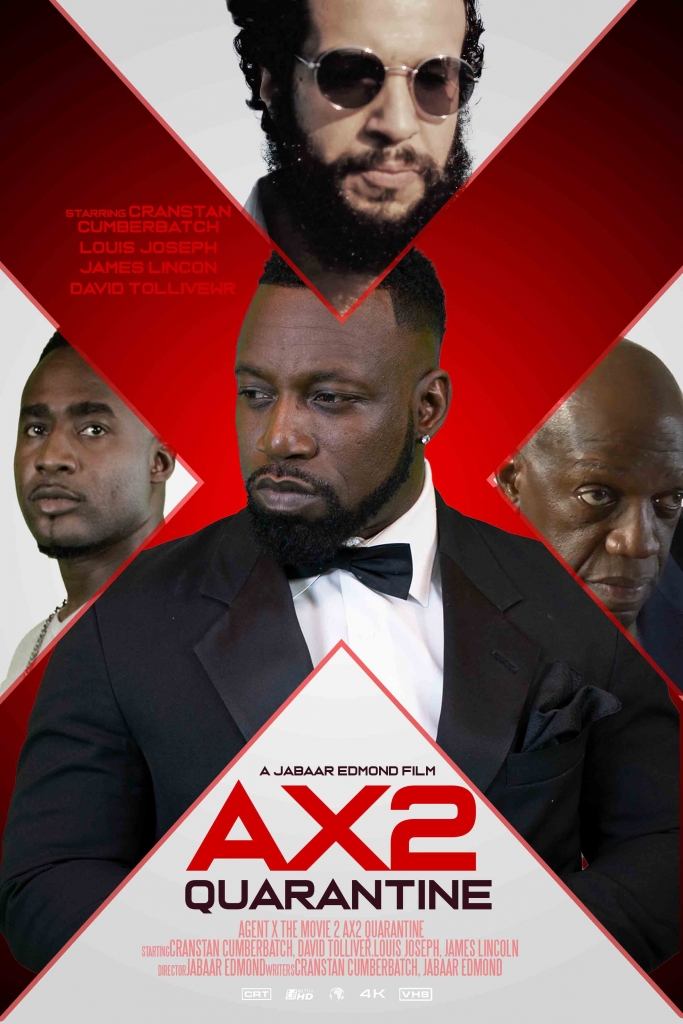 Setting the movie during the pandemic was not the only way the producers melded the biggest headlines from the last year into the film, however. AX2 also explores the underworld of cryptocurrency and big data, all while maneuvering through a tale of money, murder, and revenge.
"Data is the number one most valuable commodity in the world right now," said Edmond.
"Facebook alone has all of our information, all of it, and it's constantly being sold," added Cumberbatch. "Like right now."
Edmond and Cumberbatch, who have been a team since 2015, have big plans for the Agent X franchise, including more movies, comics, graphic novels, and action figures. While it would be nice to find a major studio home, they are also comfortable going the independent route like successful producer Will Packer, also from St. Petersburg.
"We're not trying to reinvent the wheel," said Edmond. "We're actually attempting to stand on the shoulders of those that came before us."
The duo is also hoping to lend their shoulders for others to stand on.
In addition to their numerous production projects in the works, they are founding members of the Tampa Bay Actors Guild. They are also on the organizing board of directors for the Sunshine City Film Festival and the Black Art Film Festival. The two hold clinics and symposiums at local schools, something they would like to do more.
"It really puts us in a position to help cultivate this culture here, within the city and our community," said Cumberbatch. "We're just looking to grow and to inspire more people that want to be a part of it."
Edmond and Cumberbatch screened their movie about a homeless veteran who turns to his art as both therapy and way out of homelessness, Art in the City, to Mayor Rick Kriseman inside City Hall. They also hope to see the city do more to cultivate the local filmmaking community.
"We would love to have that conversation," said Cumberbatch. "But we have not been in a position to have it yet."
AX2 is currently in post-production, and the hopes are that they can start showing test screening around the Fourth of July. This is another way for Edmond and Cumberbatch to bring a little piece of Hollywood to St. Petersburg. After that, they hope to hit the festival circuit and use their connections at AMC to also tour this film around the country.
"I think we really set the stage to open an untapped market," said Edmond. "There is an abundance of creatives in the St. Pete/Tampa Bay area, and we want to activate and connect them and connect them to grow this market for us all."
To learn more about the film, please visit agentxthemovie.com.
To reach Mark Parker, email mparker@theweeklychallenger.com