Grammy Award-winning gospel artist and talk show host Evangelist Dorinda Clark-Cole will headline the Look Up! Clearwater Music Festival this Saturday, June 12 in Crest Lake Park.
BY J.A. JONES, Staff Writer
CLEARWATER — Look Up! Clearwater Music Festival is back for its fourth year this Saturday, June 12, after taking a year off in 2020. This year's return christens Clearwater's newly revamped Crest Lake Park, located at 201 S Glenwood Ave. in Clearwater, from 2 to 8 p.m.
This year's festival has a packed lineup and features special guest three-time Grammy Award-winning gospel artist and talk show host Evangelist Dorinda Clark-Cole. Other performers include:
Tyrell Pitman & The Tampa Boyz​ – Contemporary High Energy Gospel
Trellanie – Contemporary Gospel
Koinonia Gospel Choir
Tribe Dance Crew – Contemporary Praise & Worship Dance
Jacob's Well – Contemporary Christian
Abundant Life Ministry's youth praise team
The annual event has been sponsored yearly by the Upper Pinellas County Ministerial Alliance (UPCMA). UPCMA board chair Pastor Carlton Childs of Overcoming Life Ministries COGIC shared that the festival was started five years ago to inspire North Greenwood youth.
"We had several tragic incidents in North Greenwood dealing with our youth," Childs noted.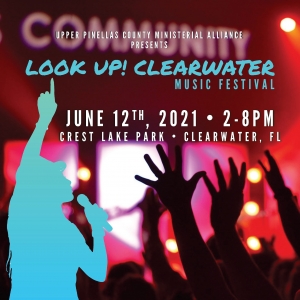 The UPCMA had submitted several mentoring programs to the sheriff and the police department in hopes of raising funds for the programs. Childs remembered the sheriff pushing back.
"He was tired of giving money to programs that weren't working, so he asked us, "What are you guys going to do?"
Childs said the UPCMA met with the initial idea of some kind of youth outreach. But by the end of the planning sessions, he said, "We came up with a music festival because we know the young people love to dance, love to sing, and love to step – and these were all the things that we were going to include in the festival."
He added that they came up with the name Look Up, Clearwater! because they wanted the young people in the North Greenwood area, which is the highest poverty community in Pinellas County, and other neighborhoods in Clearwater to start looking up after having been looked down on for so long.
"It was designed to target our young people, to attract them away from the streets, give them something to do, and encourage them to participate," Childs stated.
The festival is co-sponsored by the City of Clearwater and supported by many other churches outside of the UPCMA, including mid-county, predominantly white churches.
"They really came aboard. We have a great group of churches," acknowledged Childs, who said the festival also serves to help break down barriers stemming from racism. "You'll find people from all walks of life, all denominations, all races — we can all come together, regardless of the color of your skin," he added.
Elder Sandra Wilson of Garden of Grace Ministries agreed. She said the festival is a time for community involvement and engagement.
"We focus on really ministering to the youth in our community, and we want people to look up and recognize that we can fellowship and come together from different ethnicities, ages, congregations, and just enjoy a great time of music and food while spreading the gospel as a focal point."
Along with the City of Clearwater, the main sponsors include the Clearwater Police Department, St. Petersburg College Clearwater Campus, Pinellas County Sheriff's Office, Tragos, Sartes & Tragos Law offices, RCS, and Sam Ash. Additionally, the festival's youth area will be sponsored by the Seminole Assembly of God, under Pastor Kenny McNatt direction.
The free event will also host food vendors, and attendees are encouraged to bring their own lawn chairs or blankets. To learn more about becoming a vendor, visit the Look Up, Clearwater! vendor's page.
Partnering churches include:
Overcoming Life Ministries COGIC, Pastor Carlton Childs
Restoration Village Ministries, Pastor Nathaniel Ramsey
Faith Christian Church, Pastor Nick Champlin
Abundant Life Ministries, Pastor Anthony McDaniel
Carmel Baptist Church, Pastor William Sherman
New Destiny Worship Center, Pastor Anthony Ballestero
Gulf Coast Church, Pastor Randy Morris
Olive AME Church, Pastor James Williams
John's Missionary Baptist Church, Pastor Fleming Tarver
Bayview Baptist Church, Pastor Donald Scott
New Beginnings Community Church, Pastor Andre Dodson
Westcoast Center & School, Pastor Ray Chester
Garden Of Grace Ministries, Pastor Norma Fontaine-Philbert
City Of Praise International Ministries, Pastor Ernst Chestine
To reach J.A. Jones, email jjones@theweeklychallenger.com