By Keisha Bell
Tensions were high in the summer of 2016. While the nation's attention was on the presidential race, Louisiana's capital city had its own worries.
Baton Rouge had recently experienced devastating flooding as well as shootings involving civilians and law enforcement. The city desperately needed a strong, yet calming leader. Its voters chose her.
Meet Sharon Weston Broome, born on Oct.1, 1956, in Chicago. On January 2, 2017, Broome made history by becoming the first African-American woman to serve as the mayor-president of Baton Rouge, La. This would not be the first time Broome made history.
Broome is the only woman in the history of Louisiana who has been speaker pro tempore of the House of Representatives and vice president of the Louisiana Senate.
To hold the number two leadership position in both legislative chambers for anybody is quite an accomplishment; however, to be an African-American woman and do it is even more impressive when considering the small percentage of those like her elected to political office.
When given a chance, she made the most of the opportunity to better serve her constituency.
Prior to politics, Broome received a bachelor's and master's degree in communications from the University of Wisconsin–La Crosse and Regent University, respectively. She was a news reporter in Baton Rouge, La., for five years before she was elected to the Metro Council.
During the summer of 2016, much of the political campaigns in East Baton Rouge Parish, which is about 46 percent black, focused on healing and unifying. A 2017 24/7 Wall Street study rated Baton Rouge, La., to be one of the most segregated cities in the country. With such dire circumstances, the city's voters believed she was best qualified to lead the charge.
Although committed to helping all areas of the parish, Broome made it clear that significant public and private investment is needed in north Baton Rouge, La., area largely comprised of low-income, mostly African-American neighborhoods. The voters agreed that when working to truly heal and unify, bringing real resources to underserved residents is paramount.
Broome's run-off challenger raised close to $1 million, of which a large portion he spent negatively attacking her. Her financial resources were notably under-matched, but that did not stop her. Believing that "your care for others is the true measure of your greatness," Broome pressed on.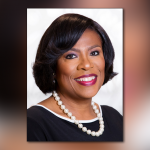 Mayor-President Broome has had some controversy, one of which surrounded the U.S. Department of Justice's decision not to reauthorize the Baton Rouge Area Violence Elimination (BRAVE) program because of the program's history of reporting and compliance deficiencies.
Initially, stories were spun that presumed there was some corruption on Broome's watch. This was not the case. As mayor-president, however, Broome was left to deal with the Justice Department's decision within her first year on the job.
While doing so, Broome received backlash from other elected officials notably, Councilman Buddy Amoroso, U.S. Senator John Kennedy (no relation to the Kennedy family of Massachusetts) and Congressman Garret Graves.
In an attempt to distribute the remaining grant funds before their Sept. 30 expiration, Broome awarded small contracts for community programming that was originally earmarked under BRAVE but never pursued. Although community programming was a stated objective of BRAVE, in Kennedy's letter to Broome, he asserted that BRAVE funds spent on community programming, instead of law enforcement, were a "blatant waste of our federal tax dollars."
This difference in philosophies is a prime example of why it is important to have strong, diverse and inclusive representation at decision-making tables. The idea that policing alone is sufficient in addressing the needs of vulnerable and/or minority communities is archaic, yet its mindset continues to linger in positions of high authority.
A 2015 J.P. Morgan Chase study found that black businesses have a direct role in stabilizing black communities, yet in East Baton Rouge Parish less than five percent of parish contracts go to black businesses. This practice is not limited to that parish. It can be found across the nation.
Often, true diverse representation means being open to ideas that are different than age-old practices. Broome's courage to bring forth such considerations, as well as her position to see them through to serve, and to bring healing and unity to whole communities, is frequently under-appreciated but maybe her most significant measure of greatness.
Keisha Bell is an attorney, author, and public servant. www.emergingfree.com