Yashima Fuller, Brenda Hanes and Shirley Dee shared their childhood memories of the Gas Plant neighborhood.
By Frank Drouzas
ST. PETERSBURG — Hundreds of Black families, businesses, churches, and community spaces were displaced or destroyed by the construction of Tropicana Field. Former residents of the Gas Plant and Laurel Park neighborhoods and their descendants share memories of a safe, supportive, and thriving community and the lasting impact of its demolition.
The story of the Gas Plant and Laurel Park neighborhoods is unique to Pinellas County and has a history repeated across this country and generations of Black and Brown communities. If we are to move forward with race equity, we must know, understand, honor, and be changed by our collective past.
Yashima Fuller, Brenda Hanes and Shirley Dee fondly recalled the loving, communal spirit of living in Laurel Park.
"Everyone there was like family," Hanes said. "You know, kids stay out late at night on the streets, everybody watching each other's kids. And we have some good memories from then."
"We try to still be family," Dee added.
Hanes said she was sorry to see the area torn down — even though it wasn't in "the best of shape"– to make way for the new development.
Fuller recalled moving to Laurel Park when she was only four and "just having a lot of fun."
"My grandma would go out on the porch every day and dance with her friends," she said. "I met a lot of people, and I would be out there dancing with her!"
To this day, she is still friends with the neighbors she grew up with back then, even after they all moved out of Laurel Park.
"We all grew up, and we are very successful," Fuller said. "It was just a place of love, and we still have that love, and we all still get together."
Dee was born in Laurel Park in 1973, then moved away, only to move back there in 1982.
"I was 9 years old, but I still went there every weekend to visit everyone like my Aunt Lenore and everybody else," she remembered. "Just running around and being a kid. We had fun. Everybody got along."
Dee recalled hanging out on porches and in one another's homes until the small hours of the night.
"We'd go to sleep until they woke us up to go home," she said, "We had a nice time, but we really do miss our project. We hope you bring the project back — it could be the new Laurel Park!"
Click here to watch videos of residents recalling their gas plant memories.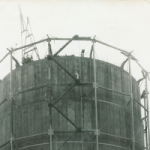 Yashima Fuller, Brenda Hanes and Shirley Dee recorded their memories of growing up in the Gas Plant District on Dec. 12, 2021, at the Gas Plant/Laurel Park Reunion.