ST. PETERSBURG – The St. Petersburg NAACP, the oldest civil rights organization dedicated to the political, educational, social, and economic equality of rights and eliminating discrimination, released their candidate report card from their virtual candidate forum on Saturday, Oct. 18.
Grades for attending candidates prove surprising with the only "A" being awarded to Maria L. Scruggs, an independent candidate for County Commissioner, and the only "F" going to the appointed Julie Marcus, current Supervisor of Elections. For this organization, voting is the hallmark of civic engagement and a powerful tool for social change.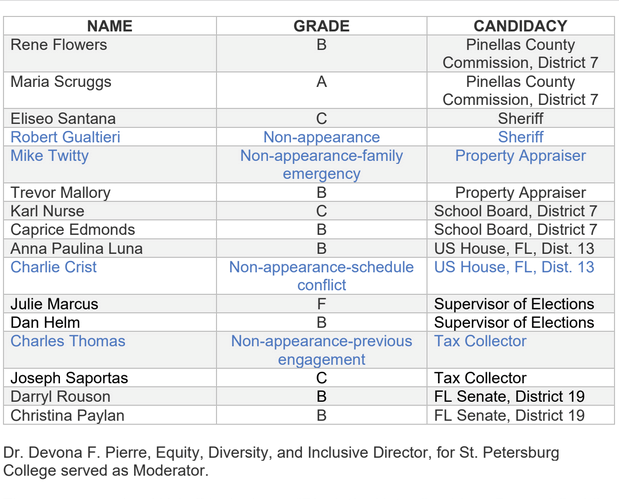 The candidate's forum included candidates from available Pinellas County political positions and two other legislative seats: US State Senator and Florida House of Representative. All invitees attended except for Sheriff Robert Gualtieri, Property Appraiser Mike Twitty, US House of Representative Charlie Crist, and Tax Collector Charles Thomas.
The structure of the forum placed substantial weight on the values of equity, accessibility, and results. Additionally, candidates were allowed to share responses to questions about their understanding of the desired role, critical issues, along with proposed remedies.