BY ALLEN A. BUCHANAN, Staff Writer
ST. PETERSBURG –Delta Omicron Sigma (DOS) Chapter welcomed more than 160 fraternity brothers from all over the state of Florida to the University of South Florida, St. Petersburg's student activity center to participate in the 2017 Sigma State Leadership Conference.
According to local chapter President Antwann Jackson, the last major event that drew leaders from around the state was called "The Roundtable" that occurred in the 1960s.
"Across this great state, we have over 32 chapters, and we have them all here," said Regional Director of Education Joseph Griffin.
Chapter members from across the state started arriving for registration and check-in on Friday, Sept. 22. Registration for workshops began as early as 7 a.m. the next morning.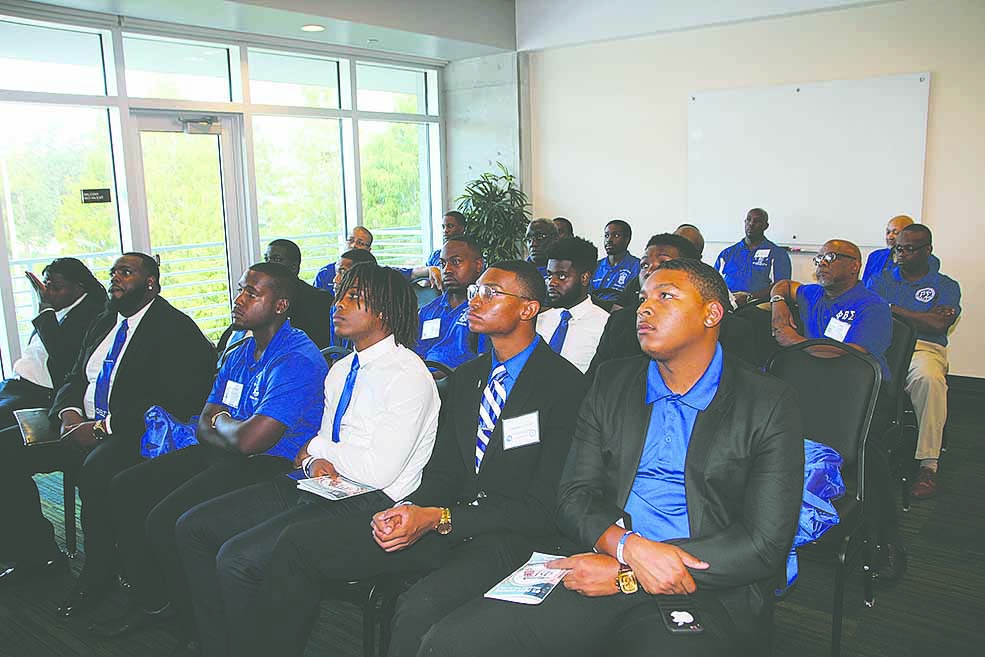 Jackson said he is grateful for the talented members in his chapter, but arms are always open for more dedicated members willing to work.
"Although we have brothers from all different walks of life and different perspectives and age groups here in the city of St. Petersburg, we're always looking for new talented brothers who have something to bring to the table," said Jackson.
Sigma's Florida State Director Zannie C. Mount summed up the purpose of the conference when he asked the brothers to step out of their comfort zone and share ideas and practices with chapters around the state.
The 45-minute morning sessions were divided into three general sessions: "Programming For Success," "How to Get Away with Juice Jam: Risk Management" and "Who Runs the Yard."
Griffin took the reins of the "Programming for Success" session while shedding a spotlight on the fraternity's four international programs: Bigger & Better Business, Education, Social Action and Sigma Beta Clubs.
Griffin gave the example of their adopt-a-school initiative, which reinforces brotherhood, scholarship and service. He feels the program is a gateway to adopting neighborhood schools so that Sigmas can help mentor students academically and socially for schools in need.
"That is a huge initiative that is currently going on within Phi Beta Sigma," said Griffin.
Other programs Griffin mentioned were the Volunteer Income Tax Assistance grant where Sigmas assist with income tax preparation for lower income citizens and how they help support minority-owned businesses by spending money at their establishments.
Members from several Sigma chapters in Florida shared their contribution to brotherhood, scholarship, and service.
"We partnered with Tobacco Free Florida, which is a statewide program that will actually give you money to participate in it- $1,000 a year," said International Headquarters Representative John Moody.
"We have a mentoring program at a local church here," said senior DOS member Thomas Jackson. "We work with the local races and walks. We make money that way. Presently, we are working with the Bucs, and we are looking at making $25,000 to $30,000 off that particular project."
A topic that engaged the Sigma collegiate brothers in conversation was "How To Get Away With Juice Jam: Risk Management." Sigma collegiate Imbert Pierre along with Griffin led a discussion on event planning and how to determine revenue from an event in order to make money.
The third workshop of the morning was called "Blue Print Operations," which dealt with the administrative functions of the fraternity and how to make it more fluent for the 21st century.
The morning session concluded with two simultaneous workshops: "Chapter Operations and Technology and Who Runs The Yard: Leveraging Community & Campus Resources."
Phi Beta Sigma Fraternity has evolved from its Howard University roots in 1914 into an international organization with a multiracial and multicultural membership in 2017. As has been proven in the past, a Greek organization's success can be measured not only by the money in its bank accounts but by the quality of its membership and dedication to service and outreach in surrounding communities.
It all begins with recruitment. International Second Vice President Jarrod Benjamin gave an excellent example to the collegiate Sigmas present what not to do and what to do when implementing recruitment efforts.
"I don't know what Sigma you're right now, but our members are not in the position where they're just sitting around waiting for new members to come join us. I suggest if he looks like he's going to be a good Sigma, have a conversation with him. Let he know what we represent, let him know what our priorities are. See if he's likeminded. Invite him to a service project," said Benjamin.
Conference feedback
Mu Epsilon Chapter Sigma Nicholas Martin from Florida State gave high marks for the conference.
"Today I got out of the sessions how to reach out to different parts of campus and how import resources from different parts of campus."
Undergraduate Alexander Debnam of Alpha Eta Chapter at Florida A&M also praised the conference. "Overall, the sessions were great, and they were very informative," said Debnam.
Gamma Delta Sigma Rueben Grant from Orlando was impressed with the fraternity's new online management system called the Membership Intake Process, or MIP.
"I'm looking forward to the MIP process as we're learning a little bit more coming off of Conclave," said Grant.
Grant talked more about the new Blue Print process, or data management system, being implemented by the fraternity.
"It's just bringing us into the 21st century being able to do our PAs online, getting rid of the paper that has loaded down the organization for years…allowing nationals to kind of do things in real time."
At the end of the conference, a group photo was in order. The evening concluded with fellowship and a little unwinding at Jeff's Place on Fourth Street South.