by Keisha Bell
Have you ever truly taken the time to appreciate the sacrifices that women have made so that others could have a better life? Many times her offerings go unnoticed because people do not miss what they never knew they had. Other times her sacrifices are simply under-appreciated because she is "doing what she is supposed to do." Is she supposed to defer her dreams?
Meet Coretta Scott King, a woman who many simply know as the wife of Dr. Martin Luther King, Jr. Scott King lived from April 27, 1927, through Jan. 30, 2006. In addition to being an author, she helped lead the Civil Rights Movement in the 1960s. Because she was an accomplished singer, many times Scott King incorporated music in her civil rights work.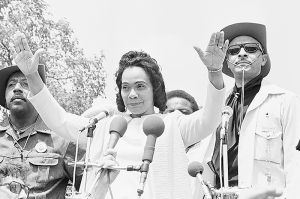 After graduating from Lincoln Normal School as valedictorian in 1945, Scott followed her sister (Edythe) by attending Antioch College through its Interracial Education Program.
It was at Antioch where Scott King became politically active. This was largely inspired by her experience of racial discrimination when the local school board denied her request to perform her second year of required practice teaching at Yellow Springs public schools.
She appealed to the Antioch College administration, which sought to remedy the situation by employing her at the college's associated laboratory school for a second year. When Scott King won a scholarship to the New England Conservatory of Music, she transferred. There is where she met her husband.
Although Scott King discovered ways to infuse her musical voice into her civil rights work, she understood that by marrying Dr. King she would need to forgo her aspirations of having a career in the music industry. For the love of one man and then for the love of millions of people, she sacrificed. This act became symbolic for many African-American women during the movement. Have you ever loved like that?
Scott King was not oblivious to the sexism of the Civil Rights Movement. In the
January 1966 issue of "New Lady" magazine, Scott King said in part, "Not enough attention has been focused on the roles played by women in the struggle. By and large, men have formed the leadership in the civil rights struggle but…women have been the backbone of the whole civil rights movement."
Note, this was the woman who had the vow to obey her husband removed from her 1953 wedding ceremony.
After her husband's assassination, Scott King took on the leadership of the movement after Josephine Baker declined her offer to do so. As a result, Scott King expanded her focus to include a number of other causes such as women's rights, LGBT rights, economic issues, world peace and various other causes.
During a Solidarity Speech in December of 1968, Scott King called for women to "unite and form a solid block of women power to fight the three great evils of racism, poverty and war." This explains in many ways how today's events mirror those of yesterday.
As expected, Scott King continued to be an active advocate for African-American equality. In addition, she founded the King Center and successfully sought to make his birthday a national holiday.
Some only know of Scott King as the wife of Dr. Martin Luther King, Jr. Her memory should not be limited to just that.
Scott King once said of her sister Edythe, a woman who became the first African American to attend Antioch College on a completely integrated basis: "Pioneering is never easy, and all of us who followed my sister at Antioch owe her a great debt of gratitude."
Scott King was inducted into the Alabama Women's Hall of Fame. She has been referred to as "First Lady of the Civil Rights Movement." She too is a pioneer. For her, we are all grateful.
Keisha Bell is an attorney, author and public servant. To reach Bell, email her at emergingfree@gmail.com or log on to www.emergingfree.com to view more of her work.