Photos courtesy of Joey Clay Photography
BY J.A. JONES, Staff Writer
ST. PETERSBURG – Parents, educators and students alike will relate to the sense of urgency coursing through American Stage's production of playwright Dominique Morisseau's "PIPELINE," in performance now through Feb. 24.
Directed by L. Peter Callender, the play is a taut, rhythmic exploration of what happens when parents are stressed, educators feel threatened, and students are misunderstood.
Revolving around Omari, an African-American teen, and his mother, Nya, the play uncovers an incident of violence that will or will not result in the youth being placed on a path toward the criminal justice system–thus the play's name–pulled from the now sadly familiar phrase "school-to-prison pipeline."
But while the play hinges on the questions regarding what caused Omari–played with emotional dexterity by Andrew Montgomery Coleman–to explode, Morisseau, a 2018 MacArthur Fellow, has crafted a complex co-parenting dynamic that clearly holds a heavy responsibility for some of the teen's anxiety.
Gillian Glasco's Nya, a single mother teaching in a challenged urban school herself, is fraught with anxiety, doubt, desperation, guilt and loneliness while Aaron Morton's portrayal of emotionally estranged but financially supportive father Xavier exudes bluster, then bafflement, and ultimately fear in the face of his son's scorn.
When their choice to send Omari away to a private boarding school ends in "three strikes out," both are forced to reckon with the impact of their choices and "adult business" on their son.
Add a racially insensitive though unseen antagonist–the tone-deaf and possibly prejudiced teacher who sets Omari on edge in the unfamiliar and privileged environment where he's been enrolled to get him out of the 'hood'–and the match is lit. The result? A moment of terrible judgment that could easily derail his future for years to come.
As Nya's co-worker Laurie, Cynthia Beckert delivers as a wise-cracking but passionate teacher who has experienced the worst of abusive parents, while school security guard Nun, played congenially by Cranstan Cumberbatch, finds himself caught in the middle of students, politics and a complex connection to Omari's family. Kiara Hines rounds out the cast as Jasmine, Omari's spunky, would-be-ride-or-die girlfriend.
L. Peter Callender, who in the past directed the American Stage productions of August Wilson's "Joe Turner's Come and Gone" and Lorraine Hansberry's "A Raisin in the Sun," brought personal awareness and experiences to bear in directing what he calls Morisseau's "most important work."
Callender shared on growing up as a "latchkey kid" of a single mother, and as an educator who has worked in schools in Oakland, Calif., he had both thoughts and questions about the American school system.
"Young students of color, male students of color throughout the country are targeted from third, fourth grade. From that time onward, there's no care as to what the situation was," stated Callender.
He noted that the system rarely allowed teachers to take the time to consider why children misbehave – whether it might be due to problems at home, or emotional, mental or physical illness.
Throughout directing the play, Callender said he found himself asking, "Why is it so easy to toss a young student of color aside–especially a male?"
Glasco, who plays Nya, grew up in a family of educators from the South and said the play's issues landed close to home.
"So much of what Nya and her husband have decided to believe in is that if you have a certain amount of education or go to the right schools, things will be better," she mused.
Glasco acknowledged that students who are sent to schools with those more affluent than them might gain some access to people and opportunities they wouldn't have before. But, she added, "The things that don't change when you are a person of color is a perception of who you are regardless of your monetary growth or being able to be in a private school or a boarding school."
With the national education statistics looking grimmer every year, "PIPELINE" presents yet another take on the ongoing war for the future of black and brown students. But it also focuses a strong eye on the family, forcing parents who are watching to consider how their personal angst is helping or hindering an already difficult task: assuring the best possible outcome for their children's future.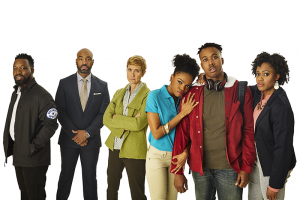 "PIPELINE" by Dominique Morisseau, directed by L. Peter Callender, is showing from now through Feb. 24 at American Stage, 163 Third St. N, St. Petersburg.
For more information or to purchase tix, visit www.americanstage.org or call American Stage's Box Office at 727-823-PLAY (7529).
To reach J.A. Jones, email jjones@theweeklychallenger.com