Ruben Mays shared how his life significantly improved when his family moved to the Gas Plant neighborhood.
By Frank Drouzas
ST. PETERSBURG — Hundreds of Black families, businesses, churches, and community spaces were displaced or destroyed by the construction of Tropicana Field. Former residents of the Gas Plant and Laurel Park neighborhoods and their descendants share memories of a safe, supportive, and thriving community and the lasting impact of its demolition.
The story of the Gas Plant and Laurel Park neighborhoods is unique to Pinellas County and has a history repeated across this country and generations of Black and Brown communities. If we are to move forward with race equity, we must know, understand, honor, and be changed by our collective past.
Ruben Mays recalled that life wasn't always easy growing up in Methodist Town for him, his siblings and his single-parent mother.
"I was born by a midwife on the north side of St. Petersburg," he said. "The toilets were on the outside; running water was — we didn't have sinks. You had to do everything on the porch. The bathroom's on the porch. And then when we moved to Royal Court, man, I thought that was what I'm living in now — a townhouse!"
Mays, known as R.C. in his youth, enjoyed an upstairs bedroom and bathrooms on the inside for this time in his life, complete with flushing toilets and a shower.
"To be able to take a shower in a bathtub," he remembered. "I mean, that was amazing because all up until that time, it was foot tubs, and it was terrible! But I say this, and I talk about this because it is not how we start the race; it is how we end the race."
Inspiring Mays and his siblings was their mother, who dreamed that all her children would someday earn college degrees. In time, her dreams would be realized.
"I had four siblings, and all four of us hold college degrees," Mays said, adding that his sister held two doctorate degrees while one brother had "a doctor's degree and a law degree."
Another brother, Ben Mays, was the first athlete to be drafted from Gibbs High School and played professional football with the Buffalo Bills — and he also held a degree in pharmacology.
"So, mom said, 'Hey, you play sports, you get the books,' and all her dreams did come true," he said.
Mays, 80, is a product of Sarasota and Pinellas Counties school systems and is a professor of mathematics at St. Petersburg College. His journey should inspire younger generations to aim high and strive to overcome any obstacles.
"I think it's so important to know that young people understand that you can come from wherever; you can be whatever," he said.
Click here to watch videos of residents recalling their gas plant memories.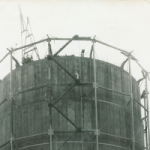 Ruben Mays recorded his memories of growing up in the Gas Plant District on Dec. 12, 2021, at the Gas Plant/Laurel Park Reunion.