Shirley Smith-Hayes and her daughter, Stephanie Perry, remembered the distress people went through when they were told they had to leave the Gas Plant/Laurel Park area. 
By Frank Drouzas
ST. PETERSBURG — Hundreds of Black families, businesses, churches, and community spaces were displaced or destroyed by the construction of Tropicana Field. Former residents of the Gas Plant and Laurel Park neighborhoods and their descendants share memories of a safe, supportive, and thriving community and the lasting impact of its demolition.
The story of the Gas Plant and Laurel Park neighborhoods is both unique to Pinellas County as well as a history that has been repeated across this country, across generations of Black and Brown communities. If we are to move forward with race equity, we must know, understand, honor, and be changed by our collective past.
Shirley Smith-Hayes, who grew up in the Gas Plant and Laurel Park districts, has bittersweet memories of her time there. She remembers the happiness experienced in her close-knit community and the sadness she felt when she had to relocate.
She came to St. Pete in 1953 and lived in Royal Court at 325 and 326 Royal St. S, then as an adult moved to 1641 Court Ave. S in Laurel Park, where her daughter Stephanie Perry was born.
"I can remember when they wanted to tear down the Gas Plant area," she said. "When they wanted to tear down the neighborhood, they were giving people money, and some of them were using the money to buy houses."
Smith-Hayes's uncle, who had come to St. Pete in the late 1930s and lived on Dunmore Avenue, decided to buy a house with these funds. As he refused any financial help from his family, it turned out to be a house he could not afford, she said. In time he was diagnosed with terminal lung cancer due to his lifelong smoking habit.
"He died never having been able to enjoy this house that he wanted all his life," Smith-Hayes said.
She remembered most of the stores, daycare centers and churches that were a part of the lifeblood of the Gas Plant area — she also recalled the sad reality of having to leave it all behind so the city could tear it down.
"I can remember the distress in people's lives and their faces when they realized they had to move," she said, adding that they had to find somewhere where they could afford the rent.
"In the Gas Plant, everybody could afford rent," she said. "Nobody ever got evicted. We were always closely connected, we supported each other, we shared food, we shared fun, and we were just a very close-knit neighborhood. But when they got ready to tear the neighborhood down, it was just an awful time for all of us."
Click here to watch videos of residents recalling their gas plant memories.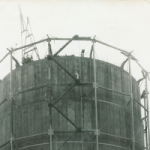 Shirley Smith-Hayes recorded her memories of growing up in the Gas Plant District on Dec. 12, 2021, at the Gas Plant/Laurel Park Reunion.