Bianca Goolsby, digital strategist, web designer, and creator of the Teaching for the Culture project is raising the alarm on issues from the misuse of school funds to dangerous social media antics by students.
BY J.A. JONES, Staff Writer
TAMPA BAY – It's no secret that Florida's public education system has been in trouble for a long time. In the Tampa Bay area, one tech-savvy education activist has found a following by raising the alarm on issues from the misuse of school funds to dangerous social media antics by students.
Enter Bianca Goolsby, digital strategist, web designer, and creator of the Teaching for the Culture project.
A self-taught coder who opened her own successful digital agency, Goolsby moved from Jacksonville to be closer to her wife, Representative Michele Rayner and spent two years in the Hillsborough County Public Schools system. Although she was rated "highly effective" during both of the two years she was teaching (business technology and coding), and she was beloved and often called "mom" by her students, for Goolsby, the teaching experience was devastating.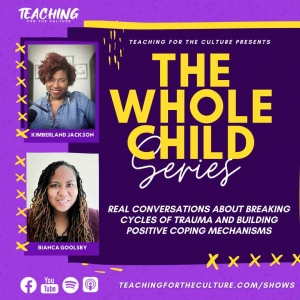 "I created an op-ed highlighting my reasons why I was leaving the classroom, and it went viral," Goolsby shared, referring to the 2019 Tampa Bay Times piece that detailed her frustrations after teaching at Jennings Middle in Seffner, a Title I school.
"My school is made up of students who come from difficult backgrounds and a good number of teachers who don't really want to teach black or brown kids," she said in the op-ed. "The school has little to no support from the district administration."
Then, Goolsby began her research on the school district, realizing those within the system making decisions needed to be held accountable. Parents also needed to be held responsible and understand what was going on with their students.
"We have fights at my school. I've had to break up many of them myself because our school is so short-staffed. In my hall alone, there have been fights, pulled fire alarms, and significant destruction to property. There are students having sex in the bathroom and using drugs on campus. Remember, this is a middle school," she wrote in the op-ed.
Goolsby said that after leaving the system, she started looking at the school board minutes. "I started looking at the stuff that they were approving; I went back to watch some of the board meetings from 2014-15 — just really doing a deep dive because I was new to Hillsborough County, I was new to being in the city, I did not have the historical context as to why this was happening."
During her digging, she also found out that the ACLU had just sent the district a report stating that it led in having the highest number of students arrested in the state (599), and the highest number of students cited by police in the state (443).
"I would bring this information forward, and I would go to board meetings, and I would speak, and they never paid attention to what I had to say. It was just: 'Thank you for speaking.' You never hear from them; they never provide you any update — nothing."
Goolsby's advocacy has taken her from the classroom to Tallahassee, and her reporting and digital platform has not only garnered support and accolades from faithful followers in the education system but has also caused frustration and anger among stakeholders in the education system.
During last year's Pinellas County school board elections, she made sure Teaching for the Culture was consistently covering the process, hosting town halls, holding forums with school board candidates, and endorsing candidates.
Goolsby pointed to the "foolishness" of the Karl Nurse campaign for the Pinellas County School Board District 7 seat – ultimately won by Caprice Edmond — as an example of "playing politics" versus prioritizing what's best for the district students, parents, and educators.
"In Caprice Edmond, you literally [had a candidate] who has been there, who's been advocating…for this historically-known Black seat…[yet] we want to play political games on this seat."
Goolsby stressed that having the right people on the school board is critical, "because when we have a four-year term, if a school is failing for four years, you have failed generations of children that will go into middle school underperforming, behind…and they might not make it across the finish line, just based on that foundation that they had an elementary school. So, it's so serious."
Teaching for the Culture features several regular shows, including:
Goolsby noted that a new show is launching on Monday, June 14, "by a group of phenomenal education leaders," called "
Dope, Brown, & College Bound
."  You can watch it live on Monday at 7:30 pm EST on Teaching for the Culture's website and social media platforms.
Visitors to the site can also find various podcasts and community forums, such as a recent town hall about policing in schools.