L, Tim Dutton, director of UNITE Pinellas and Senator Darryl Rouson
BY J.A. JONES, Staff Writer
ST. PETERSBURG – "Cash register justice," according to a recent report from the Brennan Center, is a term describing Florida's method of fining criminal defendants with "user fees" to fund its courts and budget shortages.
According to the report, since 1996, Florida has added over 20 new fees while eliminating exemptions for those unable to pay.  The accumulation of debt for defendants who can't afford the costs can result in a burrowing hole of poverty and an endless struggle to escape fees and fines that stranglehold their freedom.
One immediate, glaring issue is fines contributing to suspended driver's licenses. Florida Department of Highway Safety and Motor Vehicles data reported that between 2012 and 2015, 77 percent of suspended licenses were the result of "a failure to pay fees."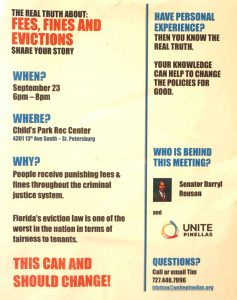 Numbers like these spurred Senator Darryl Rouson to team with UNITE Pinellas to investigate the impact on communities in Pinellas and Hillsborough. While he acknowledged that the issue has been around a long time, reviewing the statistics and impact on residents revealed in the recent Equity Profile of Pinellas County encouraged Rouson to take further action.
It costs approximately $775 just to renew a suspended license, on top of the unpaid fees that triggered the suspension in the first place. Rouson noted economic factors could impede the repayment process and impact more people with lower socio-economic means than higher-income constituents.
"Sometimes people can't afford it," he remarked. "And sometimes they're making decisions about groceries and rent versus paying a fee or fine."
Tim Dutton, director of UNITE Pinellas, agreed that focusing on the legislation is where solution-building will come.
"We're also looking at the topic of evictions and how that plays out," he added. "In both instances — fines and evictions — there are specific state laws that are a piece of the puzzle."
Data from the Eviction Lab, Princeton University's national database of evictions, reveals that the number of evictions in Florida and throughout Pinellas and Hillsborough Counties are higher than the national average.
In the most recent data, Pinellas is evicting an average of 11 families a day, with four of those families in St. Petersburg. Data also shows that residents in communities of color are disproportionately impacted.
Noting that Florida ranks 40th in the country in terms of best legislation for renters, Rouson explained, "That leads me to believe there's room for improvement."
The senator stressed that in looking at eviction legislation, it is important to assure that people are following the law, but there should be compassion in enforcing it.
"We're not saying that every landlord is a bad landlord and that they shouldn't have rights to get paid and to enforce the eviction laws. We're arguing for compassion in the enforcement; there ought to be understanding in the regulation of the law."
Dutton referred to Florida laws that allow evicted tenants' possessions to be put out on the curb, which is not the case it some states. "We want to be a place where the laws look at what the best practice is going on around the country, what might be fair and just and what laws might make that happen," he offered.
Both Rouson and Dutton also noted that the lack of legal representation in eviction cases had been shown to negatively impact tenants who usually don't have representation, while landlords normally do.
Dutton noted that a solution might be creating a better source of legal aid funding that assures more tenants are represented in eviction proceedings, as is the case in other states.
To get evidence-based statistics that will help lead toward solutions, on July 25 Rouson wrote to Senate President Bill Galvano at the Office of Program Policy Analysis and Government Accountability. He requested a review of the state-wide policies impacting criminal justice fees and fines, as well as evictions and their impact on individuals and families.
Still, shared Dutton, "the best solutions are going to be generated by a combination of understanding the data and also understanding people's personal experience with the issue."
Dutton stressed that community input, expertise and knowledge must be included in the solution building process or "it's not going to work."
To that end, Rouson and UNITE Pinellas will hold several story-gathering community meetings around the county, with the first being held in St. Pete. "The Real Truth About Fees, Fines and Evictions — Share Your Story" will be held on Monday, Sept. 23, from 6-8 p.m. at Childs Park Rec Center, 4201 13th Ave. S.
The flyer for the event stresses the importance of individual input, appealing to the community to come share their stories: Have personal experience? Then you know the real truth. Your knowledge can help to change the policies for good.
Rouson concluded that the best-case scenario would be "a reform of legislation and respecting of tenants' rights, fewer people going into poverty as a result of being evicted and increased legal representation that will lead to better outcomes."
For more information, call or email Tim Dutton at 727-440-7996, or tdutton@unitepinellas.org.
To reach J.A. Jones, email jjones@theweeklychallenger.com