The annual Stop the Violence Walk in honor of Marquis Scott will take place Friday, Sept. 17 at 7 p.m. on 19th Avenue and 24th Street South, and the prayer and candlelight vigil will begin at 7:30 p.m. on Yale Street and Queensboro Avenue South. 
BY MARK PARKER, Staff Writer
ST. PETERSBURG — After his youngest son was murdered, Maress Scott decided to make it his mission to prevent other families from having to endure the indescribable pain of losing a child.
On Sept.17, 2019, Marquis Scott was shot and killed while riding a bicycle around his grandmother's neighborhood. After coming out of a year-long fog, Maress Scott realized his son "would expect us to do something."
On the first anniversary of his son's death, what his family calls his "angelversary," they decided to bring some attention to the tragedy, honor God, memorialize their son, and take a stand against gun violence.
Maress Scott decided to retrace his son's last fateful steps, from Scott's mother-in-law's house to Marquis Scott's friend's house around the corner. That is where Quis For Life was born.
"We didn't want people to forget him," said Maress Scott. "So, we decided to start a nonprofit."
He and his wife began to speak at different events and started to combine their efforts with other programs that aim to reduce gun violence, such as Not My Son, Enough is Enough, and Hidden Voices. Scott said they were able to complete their paperwork to register as a nonprofit this year and are now waiting on final confirmation.
However, the attention brought by Scott's attempts to memorialize his son and prevent other families from experiencing the same heartache was not all positive. He said the people that murdered his son began to taunt them through social media and rap songs. A street sign the family made in which the street name of Queensborough was changed to Quisborough was stolen, and a picture was posted of someone pointing a gun at it. Nevertheless, he pushed on.
Scott said he was having talks at the Bartlett Park Community Center when someone gave him the idea of writing a pledge against gun violence. Coming from Chicago and being no stranger to gun violence himself, and now being a father who is expected to do something about his son's murder, Scott should be the first person to take the pledge.
"I'll take a stand positively to fight this thing and not seek revenge," said Scott. "It was my purpose to heal my family, and the way we wanted to heal was through our faith in God and love and forgiveness."
On May 1, Scott wrote the Black St. Pete Pledge with the hopes of planting a seed of personal accountability for the safety of the communities into the minds of those that are most likely to use gun violence as a means of solving their problems.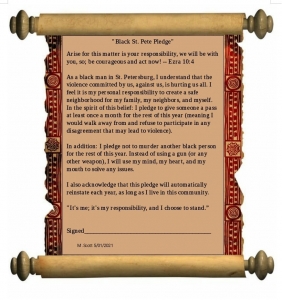 "So, I started going into the neighborhoods with the pledge," said Scott. "Anytime I see a bunch of guys gathered, anytime I saw them out doing their deal, I went out and put the pledge in their hands. I wanted to just have that conversation with them."
Scott said the reception to the pledge "would blow your mind; it's transformed places." He added that some people are initially resistant, but the tension dissolves once they read over the card. The first weekend after the cards were made, he went out to 16th Street near a corner where many people had been shot and decided to go in the store for a drink before he began passing out the cards.
One quick conversation turned into another, which turned into another, and Scott never got that drink.
"Within 20-something minutes, I had over 37 signatures," said Scott. "I was like, 'wow,' and I got in my car and was amazed."
When Boyzell Hosey and Samantha Harris invited him to set up a booth at this year's Collard Green Festival, Scott said it "transformed the event."
"All races, all genders, it did not matter," said Scott. "They wanted to sign up and support us."
He said the pledge has now taken on its own life, and he has been invited to event after event ever since. In the four months since he started the program, they are close to having 1,500 pledges signed, and that was only going out on the weekends and a "few hours here and there."
"We understood that if we were going to change this culture of gun violence, anytime, you're going to do a culture change, you have to go after the people that are most resistant."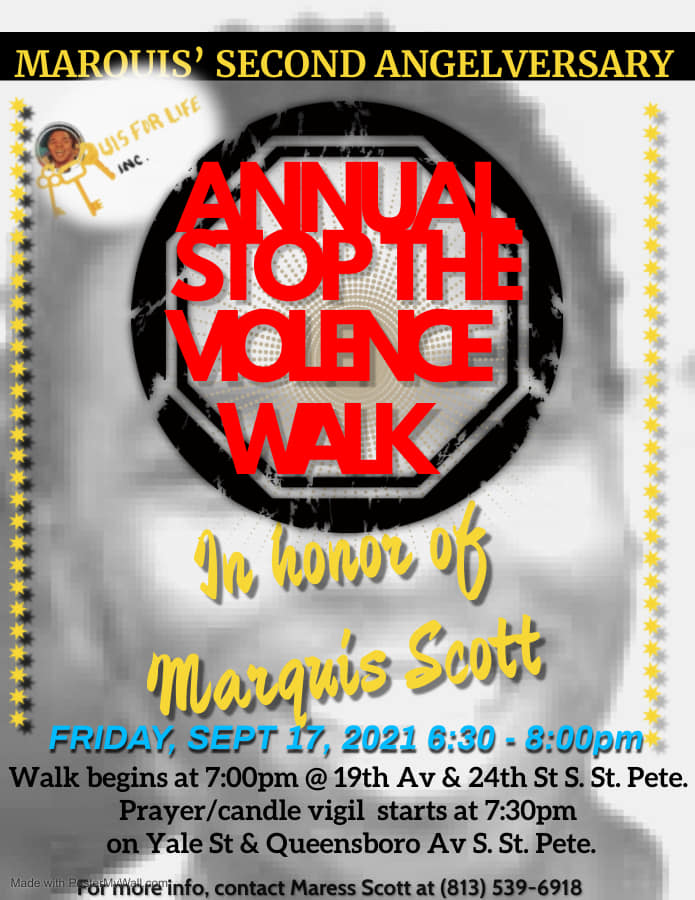 Scott said that eventually, older people tend to grow out of the gun culture, and many people die from it. Either way, he realized it was important for the next group – the young kids. Scott then designed a training program meant to start a conversation between a facilitator and school-aged children. With that, 5 Keys to Ending Gun Violence Among Young People was created.
Scott said there had been talks and presentations with Academy Prep, Pinellas County Schools, and the Juvenile Welfare Department on implementing this program.
Tomorrow is the second "angelversary" of Marquis Scott's passing. Maress Scott is gathering people to retrace his son's final steps once again and appreciates the community support the event is receiving. A church has offered their parking lot, the police department is involved, and local politicians such as mayoral candidate Ken Welch, City Councilmembers Darden Rice and Deborah Figgs-Sanders have also expressed interest.
Scott said that when they get to the spot where his son was murdered, his family and other victims of gun violence will talk about how it has affected their lives. The walk begins at 7 p.m. at 19th Avenue and 24th Street South, and the prayer and candlelight vigil begins at 7:30 p.m. on Yale Street and Queensboro Avenue South.
"Our whole aim is to honor God, to memorialize my son, and to start the healing process by bringing attention to gun violence," said Scott. "And again, to place the seed of personal accountability for the safety of our communities into each and every individual.
"But most importantly, the hearts of those guys most likely to use gun violence as a means to solve conflicts."
To reach Mark Parker, email mparker@theweeklychallenger.com