'Voice Your Vote 2020' music video featuring St. Pete's Tanya LaReese was shot all over Tampa Bay, including on the Deuces. 
By Joyce Nanette Johnson, Staff Writer
ST. PETERSBURG — The "get out the vote" chants have become louder as Election Day approaches. Exuberant marches have filled the streets while virtual conferences across the nation have sprung up to discuss every aspect of the election from voter registration, possible foreign government interference, mail-in voting issues and potential voter fraud.
One of the most innovative concepts in rallying people to vote is the music video "Voice Your Vote 2020." The video opens with an upbeat tempo led by St. Petersburg's Tanya LaReese.
LaReese has been a fixture on the Tampa Bay music scene for years.  Her dynamic voice has thrilled audiences with gospel, inspirational, and jazz. In 2007, she released her debut CD "Ready Or Not."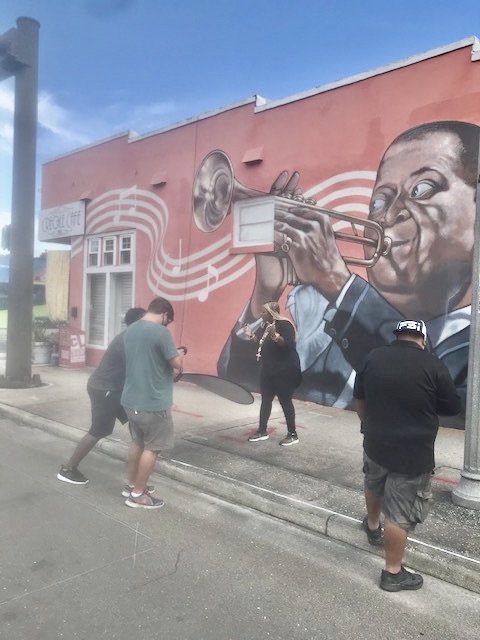 She wrote all of the songs on "Ready Or Not" and the heartfelt opening lyrics on "Voice Your Vote 2020."
The time has come for your voice to be heard
 Don't be quiet like a mouse you gotta sing like a bird
Cast your voice you got some options today
Grab your family and friends and let's lead to the way
"We need to be loud and clear about what we want," stated LaReese. "We all have to come together to vote in record numbers."
When LaReese got wind of the project, she spoke with Michelle Passoff, the producer and creator of the "Voice Your Vote 2020" video, about possibly writing lyrics and being involved with the project.
Passoff, a former public relations representative and media executive in New York, had never been politically active. Still, she wanted to create a movement that would match the political enthusiasm of the moment in the country.
Having no musical background, she proceeded to bring her dream into reality by creating a music video.
"It was the most urgent thing that was needed," remarked Passoff. "It is an American right to express your vote, and it is especially important now.
Passoff said she chose a music video to get across the message of voter participation because she could reach more people through song.
"It's fun, and it's more inspirational than informational," she explained. "I am an activist for all forms of freedom, including personal freedom, LGBTQ freedom, and freedom in terms of democracy. I am an activist for the possibility of being human."
Passoff searched the internet for talented people in the industry, and LaReese was the first singer to come on board for the project. Approximately 30 people aged 16-77 attended a Zoom meeting, and under the helm of music producer Nawlege, all aspects of the video and plans were put into place.
As a child, LaReese sang with her siblings as part of "The Jackson Five Gospel Singers," a group managed by her father, a Pentecostal minister during the 70s. The siblings had a strict upbringing that included no movies and only listening to gospel music. However, that didn't stop them from sneaking away to watch "Showtime at the Apollo," "Star Search" and "Soul Train."
"I have always been vocal about equal pay, equal rights and justice," LaReese explained. "I asked God if he gave me a platform; I would be more vocal about the racism I had experienced as a Black woman. It seemed the world was turned completely around, all divided. It seemed like we were going backward. Now I have a chance to make a difference, to speak out and make a change."
Passoff said she is in awe on LaReese's voice. "She has been committed to this project from start to finish. She has a strong voice that equals her depth of commitment to the project and to equality."
The project has also given LaReese a new experience to add to her impressive resume: filming a video. "Amazing," "exciting," and "unbelievable" are the three words she used to describe her first experience being in a film production.
Video photographers and producers Ryan Justice of Justified Films and Clint Mourino of Sharp Edge Entertainment brought the project to life.
"The meaning and message of this video are to help promote change," explained Justice as to why he joined the project.  Both Justice and Mourino have produced and directed national commercials.
LaReese explained one of the most challenging parts was singing aloud as the recording was being played and making it all match in time.
"You need to show the energy of singing live during the shoot," Justice explained. "Tanya was very easy to work with."
He also credits Mourino for shooting around inclement weather, and the technicality of filming with a drone above the Black lives Matter mural in front of the Dr. Carter G. Woodson African American Museum.
All of the shooting took place in one day and included Ybor City, Curtis Hixon Park, downtown St. Pete, and the Woodson Museum, which LaReese chose.
"I chose the location at the [Woodson] because I wanted my community to be part of the video and to attract my people," she stated.
"I'm not really a dancer," LaReese laughed. "But evidently, I was feeling it. Ryan was great, and he really made me feel that I could do this.  He made me feel like I was the most important person at that moment. Clint was super funny, and he helped me to be comfortable and relaxed."
LaReese's next project will be the release of her single "I Keep Breathing," written by herself and co-writer James L. Narota. But for now, she's urging everyone to vote.
"If you want change, go the polls. Imagine if all protesters went out to vote."